Sale!
REIT Investing Course By Adam Khoo
$763.40
Compare
With REIT Investing Course, You'll Learn How to Become a Landlord of Multiple Properties and Collect Dividends Every 3 Months
How would you like to be the landlord of hundreds of prime properties (hotels, apartments, shopping malls, warehouses) located all around the world (US, Singapore, China, UK) and collect rental income every 3 months, for the rest of your life?
Here's the good news: You do not need to be a multi-millionaire to make this happen. Using the power of REITs, you can start building your property portfolio today… with as little as $100!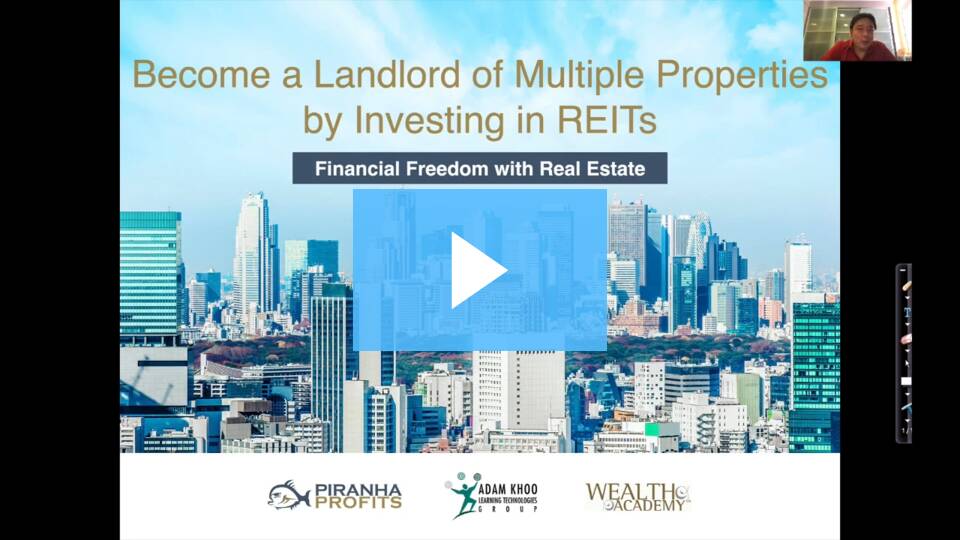 REIT Investing Course
Discover REIT Investing: The Powerful Vehicle that Gives You
10 – 14% Returns a Year with Zero Effort on Your Part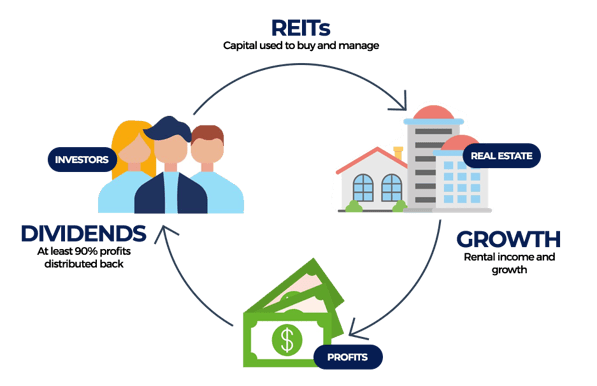 A Real Estate Investment trust (REIT) is a collective investment vehicle that allows small-time investors to pool their money together and use it to invest in income-generating properties from all around the world.
On their own, most investors can only afford to buy 1 or 2 apartments. However, by investing in REITs, you can diversify into hundreds of properties in different categories (residential, office, industrial) all around the world.
Course Highlights

7-Step REIT Screening Strategy
Learn to evaluate any REIT and pick the best ones to invest in with 7 simple steps

Case studies from both US and Singapore
Unlock investment ideas across the globe that did not previously cross your mind

Entry & Exit Strategies
Learn exactly when to accumulate or sell your REIT shares for a winning portfolio
Course Curriculum
Lesson 1: Introduction to REITs
•   How do REITs work?
•   How REITs can turbocharge and stabilize your investment portfolio
•   Benefits of REITs v.s. direct property purchase
•   How to achieve financial freedom with REITs
Lesson 2: Understanding the Different REIT Categories
•   Characteristics of Retail, Industrial, Commercial, Hospitality and Healthcare REITs
•   How different REITs compare in terms of capital gain, yield and income stability
Lesson 3: Mastering REIT Terminology Like a Pro Landlord
•   Learn all about key fundamental ratios like Debt Maturity, Lease Expiry, Occupancy Rate, Gearing Ratios, Yield, Price-to-NAV Ratio and much more
Lesson 4: 7-Step Strategy for Screening the Highest Quality REITs
•   How to use automated screeners to identify the best quality REITs
•   Learn the 7-step strategy to evaluating the quality of a REIT
•   How to pick the best REITs in the world to invest in
•   Case studies on Singapore-listed REITs
Lesson 5: How to Analyze US-Listed REITs
•   Key differences when investing in US-listed REITs
•   Case studies on US-listed REITs
Lesson 6: Investing in REIT Exchange-Traded Funds (ETFs)
•   Pros and cons of investing in REIT ETFs
•   How to select the best REIT ETFs in the market
Lesson 7: How to Build a Winning REIT Portfolio
•   Keys to building a low-risk, high-return REIT portfolio
•   Portfolio allocation and position sizing
•   Entry strategies: "When do I accumulate shares in REITs?"
•   Exit strategies: "When do I sell my REITs?"
[BONUS] Lesson 8: How to Build Your Financial Freedom Plan
Brand
PiranhaProfits
Questions and answers of the customers
There are no questions yet, be the first to ask something for this product.